CO-PRODUCT RESEARCH
A summary of FermaflavoneTM research at Fermalogic, and the applications for commercial development.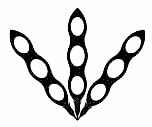 Fermentation Coproducts: FERMAFLAVONESTM
Fermaflavones are the isoflavone co-products isolated from soy-based industrial fermentations. Isoflavones such as genistein and daidzein can be marketed and sold as nutrional supplements to add value to your soy-based erythromycin or other industrial fermentation process. Fermaflavones improve the economics of a soy-based manufacturing process. For example, a medium sized industrial fermentor (100,000L) can readily generate 5.5 kg of purified genistein plus daidzein depending on the amount of soybean meal added to the medium. Fermaflavones can be harvested before or after the fermentation, so neither method requires modification of the erythromycin producing organism or the manfacturing process. Contact Fermalogic to find out more about how we can help improve the economics of your soy-based manufacturing process.
U.S. Patent No. 8,426,189. Soybean-based fermentation media, methods of making and use. Weber JM. 2013.
US Patent 5,554,519. A process of preparing genistein. Weber JM,Constantinou A, and Hessler PE. 1996
J. Mark Weber, Andrew R. Reeves, Ramya Seshadri, William H. Cernota, Melissa C. Gonzalez, Danielle L. Gray, and Roy K. Wesley. Biotransformation and recovery of the isoflavones genistein and daidzein from industrial antibiotic fermentations. Applied Microbiology and Biotechnology, July 2013 vol. 97 (14): 6427-6437 DOWNLOAD
A. R Reeves, R Seshadri, I. A Brikun, W. H Cernota, M. C Gonzalez, and J. M Weber. Knockout of the Erythromycin Biosynthetic Cluster Gene, eryBI, Blocks Isoflavone Glucoside Bioconversion during Erythromycin Fermentations in Aeromicrobium erythreum but Not in Saccharopolyspora erythraea. Applied and Environmental Microbiology 2008 vol. 74 (23) pp. 7383-7390. DOWNLOAD
Hessler PE, Larsen PE, Constantinou AI, Schram KH, Weber JM. Isolation of isoflavones from soy-based fermentations of the erythromycin-producing bacterium Saccharopolyspora erythraea. Abstract Appl Microbiol Biotechnol. 1997 Apr;47(4):398-404. DOWNLOAD